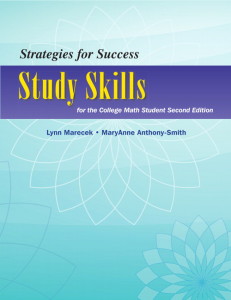 Strategies for Success: Study Skills for the College Math Student, Second Edition is a workbook of study skills activities specific to fostering success in college mathematics.   These are true student activities, not just paragraphs talking about study skills.  They enable the students to take an active approach to determine specifically what they can do to become successful math students.  By using Strategies for Success, students develop effective study skills to help them succeed in college.
The Strategies for Success 2e student workbook is available from Pearson Higher Education. Check the PearsonHigherEd website for details. Strategies for Success 2e can be ordered as a standalone workbook, or bundled together as a package with a Pearson mathematics textbook.
The Strategies for Success, 2e Instructor's Manual accompanies the Strategies for Success 2e Student Workbook.  You can download it from the PearsonHigherEd website. The Instructor's Manual provides guidance about implementing the Strategies for Success study skills activities in your college mathematics class.  At that website you can also find information about the Strategies for Success 2e, eBook as well as videos that introduce students to each activity.
Here are some comments from students who have used Strategies for Success:
"I realize what I need to change about myself and how to become a better student for the present and future."
"I was able to reflect on my study habits and how important it is to prepare and make time for this class."
"It helped me realize there are only 168 hours in a week. Certain things I do cannot be adjusted and I need to schedule times to study, do homework, and review, and stick to it."
"It helped me reexamine my thought process in regards to my ability to do math."
"It showed me to have confidence in myself."
"It helped me to remember I can do some math, I don't have to get it all now, I may not know the answer right now but I will find it. It helped me to stay positive."
"Strategies for Success helped me to asses my test taking skills and to figure out what areas I need to work on."
"Simply doing the assignments with effort really does help."